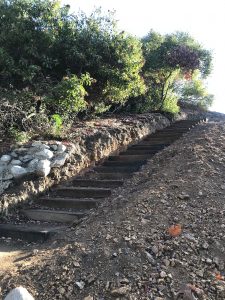 Good News! Restoration work has begun on the Sycamore Canyon portion of the CHWP. Phase 1 has been completed with the reconstruction and relocation of the stairs at the trailhead near the Thompson Creek Trail.
Phase 2 will focus on the rest of the trail, including the addition of "landing pads" on switchbacks. The hope is to get this second phase completed before the end of this fiscal year.
Phase 3 will address erosion. This will be ongoing and will include the Friends of the Wilderness Park and the help of Scouts and reserve Rangers.
~Meg Mathies is a CWC Board member and a volunteer with the Friends of the Wilderness Park.